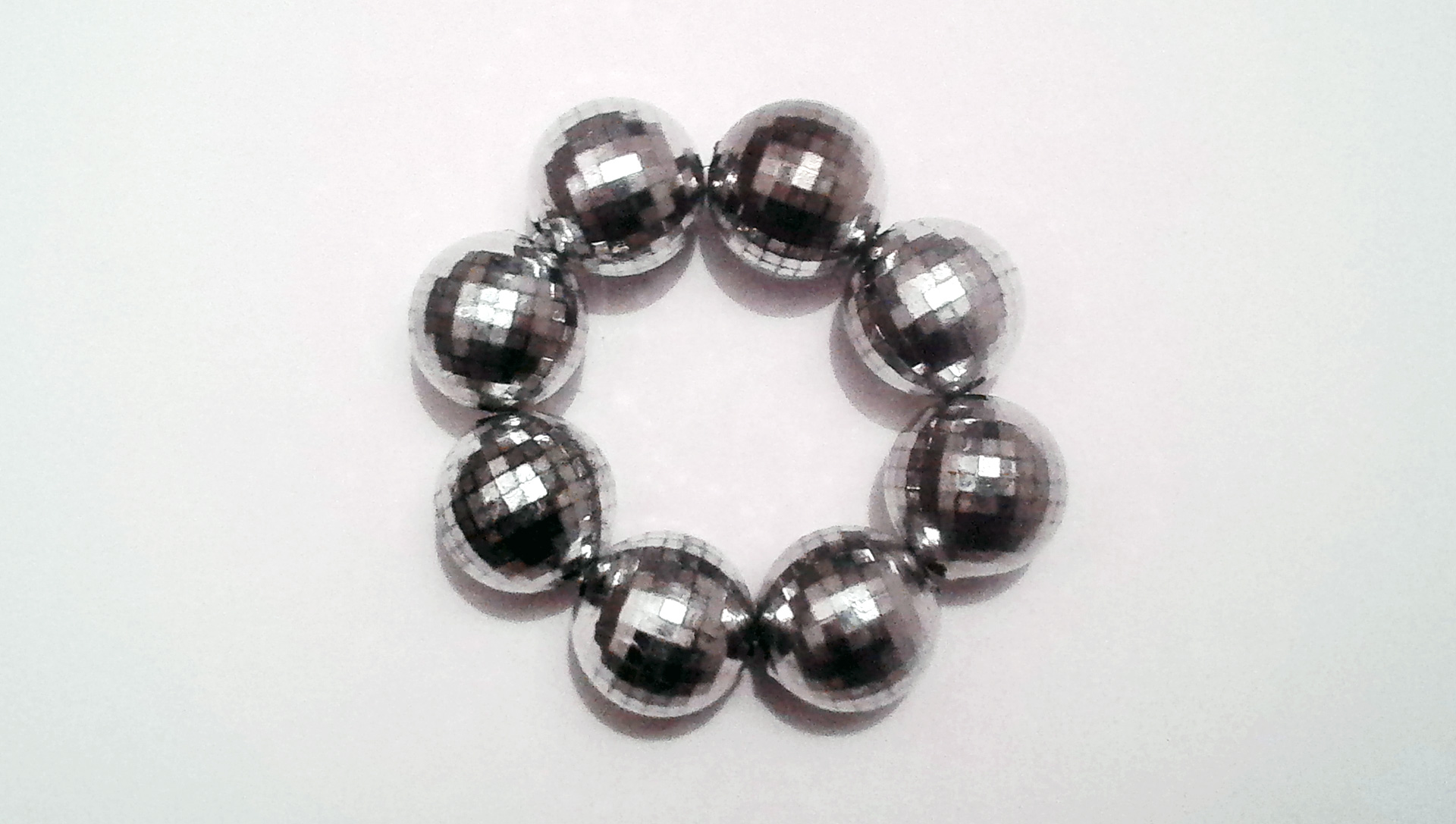 the plastic DISCO bracelet

Plastic
Plastic is material consisting of any of a wide range of synthetic or semi-synthetic organic compounds that are malleable and so can be molded into solid objects.
Plasticity is the general property of all materials which can deform irreversibly without breaking but, in the class of moldable polymers, this occurs to such a degree that their actual name derives from this specific ability.
Plastics are typically organic polymers of high molecular mass and often contain other substances. They are usually synthetic, most commonly derived from petrochemicals, however, an array of variants are made from renewable materials such as polylactic acid from corn or cellulosics from cotton linters.
Due to their low cost, ease of manufacture, versatility, and imperviousness to water, plastics are used in a multitude of products of different scale, including paper clips and spacecraft. They have prevailed over traditional materials, such as wood, stone, horn and bone, leather, metal, glass, and ceramic, in some products previously left to natural materials.
In developed economies, about a third of plastic is used in packaging and roughly the same in buildings in applications such as piping, plumbing or vinyl siding. Other uses include automobiles (up to 20% plastic), furniture, and toys.  In the developing world, the applications of plastic may differ—42% of India's consumption is used in packaging.
Plastics have many uses in the medical field as well, with the introduction of polymer implants and other medical devices derived at least partially from plastic. The field of plastic surgery is not named for use of plastic materials, but rather the meaning of the word plasticity, with regard to the reshaping of flesh.
The world's first fully synthetic plastic was bakelite, invented in New York in 1907, by Leo Baekeland who coined the term 'plastics'. Many chemists have contributed to the materials science of plastics, including Nobel laureate Hermann Staudinger who has been called "the father of polymer chemistry" and Herman Mark, known as "the father of polymer physics".
The success and dominance of plastics starting in the early 20th century led to environmental concerns regarding its slow decomposition rate after being discarded as trash due to its composition of large molecules. Toward the end of the century, one approach to this problem was met with wide efforts toward recycling.
Disco
Disco is a genre of dance music and a subculture that emerged in the 1970s from the United States' urban nightlife scene.
The disco sound is typified by "four-on-the-floor" beats, syncopated basslines, and string sections, horns, electric piano, synthesizers, and electric rhythm guitars. Lead guitar features less frequently in disco than in rock. Well-known disco artists include Donna Summer, Gloria Gaynor, the Bee Gees, Chic, KC and the Sunshine Band, Thelma Houston, Sister Sledge, Cerrone, Village People and Michael Jackson. While performers and singers garnered public attention, record producers working behind the scenes played an important role in developing the genre. Films such as Saturday Night Fever (1977) and Thank God It's Friday (1978) contributed to disco's mainstream popularity.
Disco started as a mixture of music from venues popular with African Americans, Hispanic and Latino Americans, Italian Americans, LGBT people (especially African-American, Latino-American, and Italian-American gay men), and psychedelic hippies in Philadelphia and New York City during the late 1960s and early 1970s. Disco can be seen as a reaction by the counterculture during this period to both the dominance of rock music and the stigmatization of dance music at the time. Several dance styles were developed during the period of disco's popularity in the United States, including "the Bump" and "the Hustle".
By the late '70s, most major U.S. cities had thriving disco club scenes, and DJs would mix dance records at clubs such as Studio 54 in New York City, a venue popular among celebrities. Discothèque-goers often wore expensive, extravagant and sexy fashions. There was also a thriving drug subculture in the disco scene, particularly for drugs that would enhance the experience of dancing to the loud music and the flashing lights, such as cocaine and Quaaludes, the latter being so common in disco subculture that they were nicknamed "disco biscuits". Disco clubs were also associated with promiscuity as a reflection of the sexual revolution of this era in popular history.
Disco was the last popular music movement driven by the baby boom generation. It began to decline in the United States during 1979-80, and by 1982 it had lost nearly all popularity there. Disco Demolition Night, an anti-disco protest held in Chicago on July 12, 1979, remains the most well-known of several "backlash" incidents across the country that symbolized disco's declining fortune.
Disco was a key influence in the development of electronic dance music and house music. It has had several revivals, such as Madonna's highly successful 2005 album Confessions on a Dance Floor, and more recently in the 2010s, entering the pop charts in the US and the UK.
Bracelet
A bracelet is an article of jewellery that is worn around the wrist. Bracelets may serve different uses, such as being worn as an ornament. When worn as ornaments, bracelets may have a supportive function to hold other items of decoration, such as charms. Medical and identity information are marked on some bracelets, such as allergy bracelets, hospital patient-identification tags, and bracelet tags for newborn babies. Bracelets may be worn to signify a certain phenomenon, such as breast cancer awareness, or for religious/cultural purposes.
If a bracelet is a single, inflexible loop, it is often called a bangle. When it is worn around the ankle it is called an ankle bracelet or anklet. A boot bracelet is used to decorate boots. Colloquially, handcuffs are sometimes called bracelets. Bracelets can be manufactured from metal, leather, cloth, plastic, bead or other materials, and jewelry bracelets sometimes contain jewels, rocks, wood, shells, crystals, metal, or plastic hoops, pearls and many more materials.
< BACK
|
NEXT >