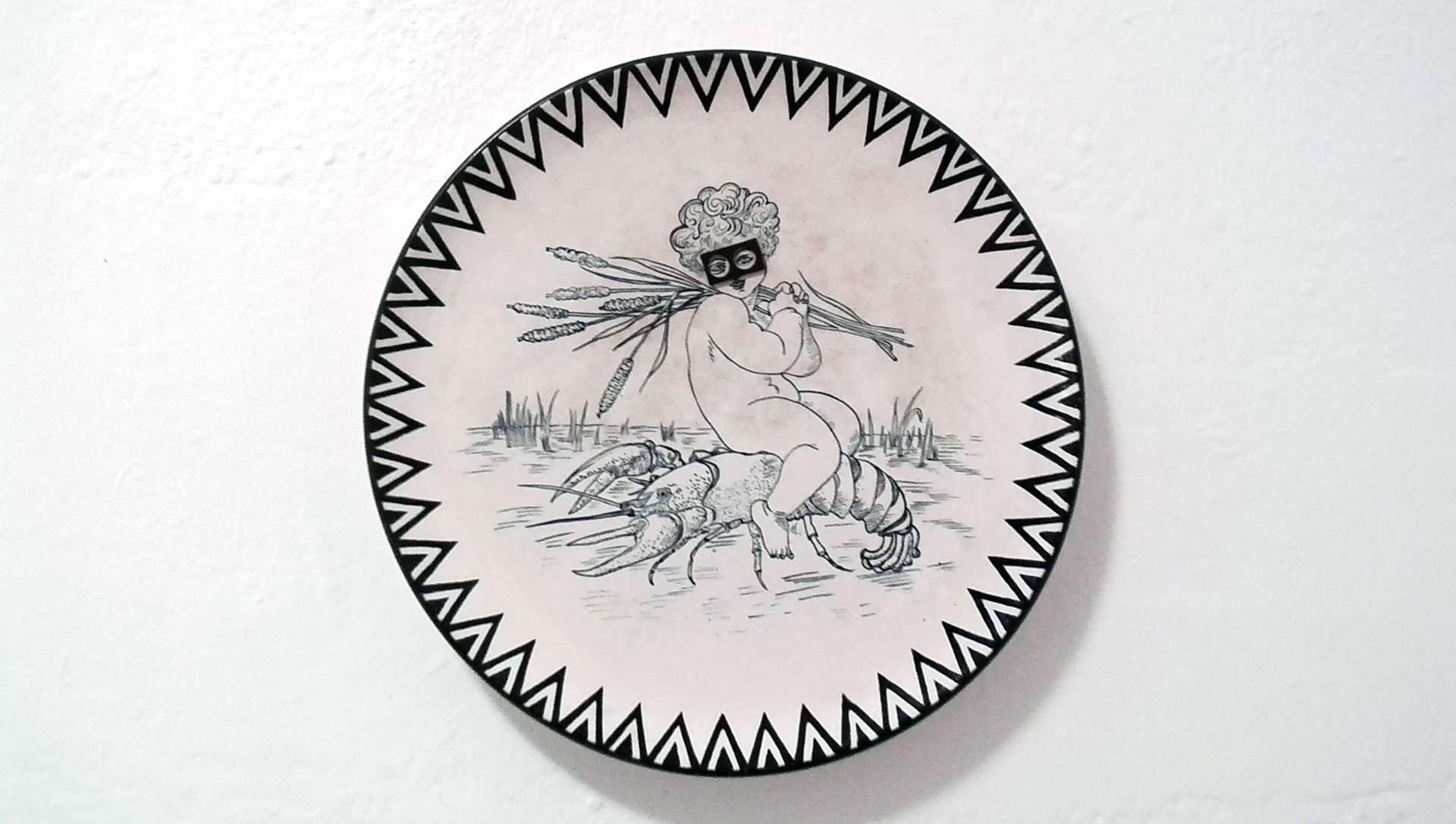 the porcelain plate and the black sticker with 2 holes

Porcelain
Porcelain (/ˈpɔːrsəlɪn/) is a ceramic material made by heating materials, generally including kaolin, in a kiln to temperatures between 1,200 and 1,400 °C (2,200 and 2,600 °F). The toughness, strength, and translucence of porcelain, relative to other types of pottery, arises mainly from vitrification and the formation of the mineral mullite within the body at these high temperatures. Though definitions vary, porcelain can be divided into three main categories: hard-paste, soft-paste and bone china. The category that an object belongs to depends on the composition of the paste used to make the body of the porcelain object and the firing conditions.
Porcelain slowly evolved in China and was finally achieved (depending on the definition used) at some point about 2,000 to 1,200 years ago, then slowly spread to other East Asian countries, and finally Europe and the rest of the world. Its manufacturing process is more demanding than that for earthenware and stoneware, the two other main types of pottery, and it has usually been regarded as the most prestigious type of pottery for its delicacy, strength, and its white colour. It combines well with both glazes and paint, and can be modelled very well, allowing a huge range of decorative treatments in tablewares, vessels and figurines. It also has many uses in technology and industry.
The European name, porcelain in English, come from the old Italian porcellana (cowrie shell) because of its resemblance to the surface of the shell. Porcelain is also referred to as china or fine china in some English-speaking countries, as it was first seen in imports from China. Properties associated with porcelain include low permeability and elasticity; considerable strength, hardness, toughness, whiteness, translucency and resonance; and a high resistance to chemical attack and thermal shock.

Porcelain has been described as being "completely vitrified, hard, impermeable (even before glazing), white or artificially coloured, translucent (except when of considerable thickness), and resonant". However, the term "porcelain" lacks a universal definition and has "been applied in an unsystematic fashion to substances of diverse kinds which have only certain surface-qualities in common". Traditionally, East Asia only classifies pottery into low-fired wares (earthenware) and high-fired wares (often translated as porcelain), without the European concept of stoneware, which is high-fired but not generally white or translucent. Terms such as "proto-porcelain", "porcellaneous" or "near-porcelain" may be used in cases where the ceramic body approaches whiteness and translucency. A high proportion of modern porcelain is made of the variant bone china.
Plate
A plate is a broad, concave, but mainly flat vessel on which food can be served. A plate can also be used for ceremonial or decorative purposes. Most plates are circular, but they may be any shape, or made of any water-resistant material. Generally plates are raised round the edges, either by a curving up, or a wider lip or raised portion. Vessels with no lip, especially if they have a more rounded profile, are likely to be considered as bowls or dishes, as are very large vessels with a plate shape. Plates are dishware, and tableware. Plates in wood, pottery and metal go back into antiquity in many cultures.
Black
Black is the darkest color, the result of the absence or complete absorption of visible light. It is an achromatic color, literally a color without hue, like white and gray.It is often used symbolically or figuratively to represent darkness, while white represents light.
Black ink is the most common color used for printing books, newspapers and documents, because it has the highest contrast with white paper and is the easiest to read. For the same reason, black text on a white screen is the most common format used on computer screens. In color printing it is used along with the subtractive primaries cyan, yellow, and magenta, in order to help produce the darkest shades.
Black and white have often been used to describe opposites; particularly truth and ignorance, good and evil, the Dark Ages versus Age of Enlightenment. Since the Middle Ages, black has been the symbolic color of solemnity and authority, and for this reason is still commonly worn by judges and magistrates.
Black was one of the first colors used by artists in neolithic cave paintings. In the 14th century, it began to be worn by royalty, the clergy, judges and government officials in much of Europe. It became the color worn by English romantic poets, businessmen and statesmen in the 19th century, and a high fashion color in the 20th century.
In the Roman Empire, it became the color of mourning, and over the centuries it was frequently associated with death, evil, witches and magic. According to surveys in Europe and North America, it is the color most commonly associated with mourning, the end, secrets, magic, force, violence, evil, and elegance.
Sticker
A sticker is a type of label: a piece of printed paper, plastic, vinyl, or other material with pressure sensitive adhesive on one side. They can be used for decoration or for functional purposes, depending on the situation.
Stickers can come in many different shapes and sizes and also vary widely in colour and design. They are often adhered to items such as lunchboxes, paper, lockers, notebooks, walls, cars, windows, and so on. Temporary name tags for example are frequently stickers.
Stickers are very widely used when an object requires with a word or idea. Brand stickers may be attached to products to label these products as coming from a certain company. They may also be used to describe characteristics of the products that would not be obvious from simple examination. A label dispenser is often used as a convenient way to separate the sticky label from its liner or backing tape.
Stickers placed on automobile bumpers, called bumper stickers, are often used by individuals as a way of demonstrating support for political or ideological causes. Identification of vehicle registration and last service details are two examples of stickers on the inside of most car windscreens. The term "window sticker" is generally used for vinyl labels which are stuck to the inside of a vehicle's window, as opposed to water-resistant stickers that are stuck to the outside of a vehicle but can be affixed to anything.
2
2 (two) is a number, numeral, and glyph. It is the natural number following 1 and preceding 3.
Hole