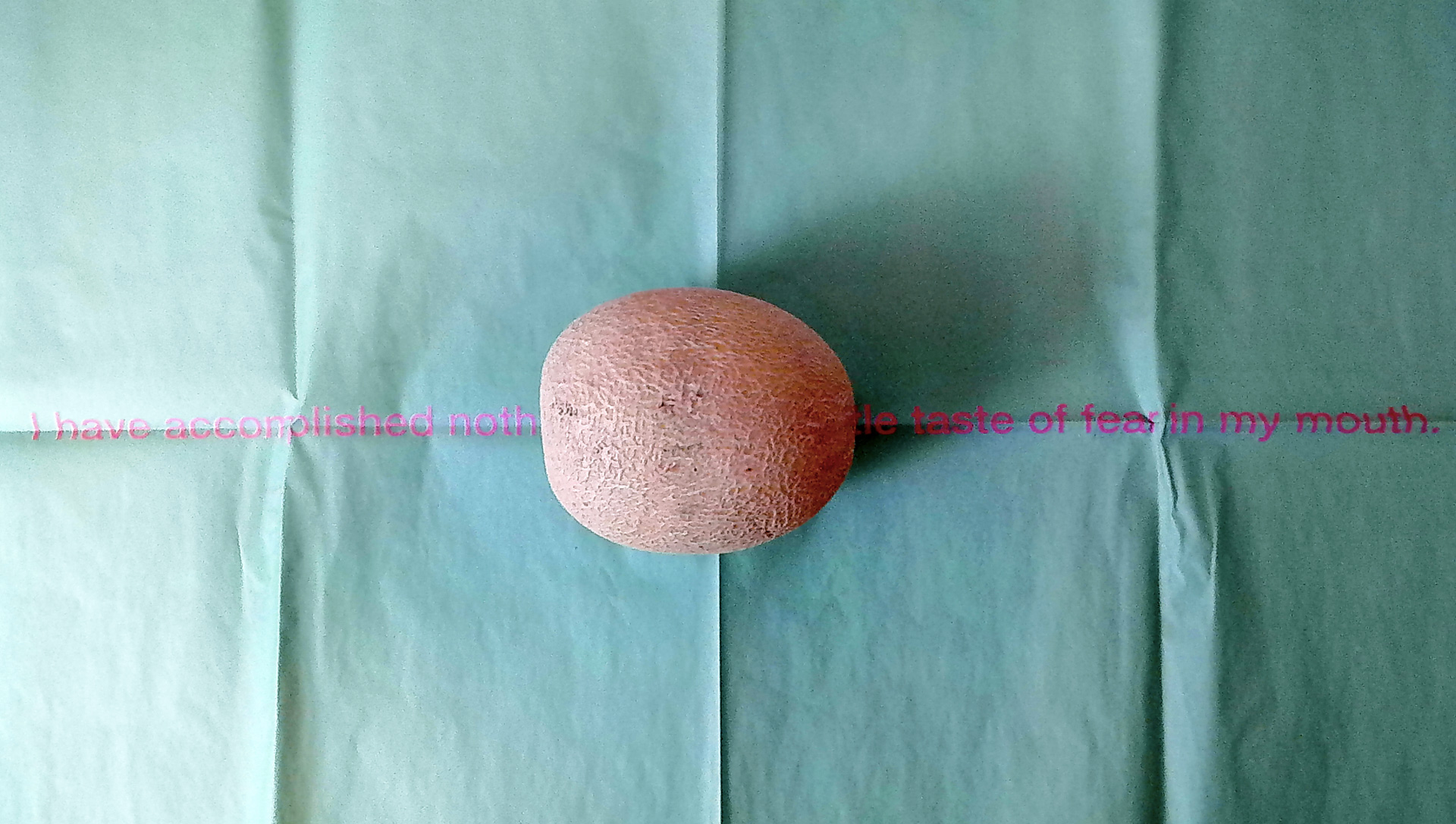 the melon ON the green poster with the pink text

Melon
A melon is any of various plants of the family Cucurbitaceae with sweet edible, fleshy fruit. The word "melon" can refer to either the plant or specifically to the fruit. Botanically, a melon is a kind of berry, specifically a "pepo". The word melon derives from Latin melopepo, which is the latinization of the Greek μηλοπέπων (mēlopepōn), meaning "melon", itself a compound of μῆλον (mēlon), "apple, treefruit (of any kind)" and πέπων (pepōn), amongst others "a kind of gourd or melon". Many different cultivars have been produced, particularly of cantaloupes.
Green
Green is the color between blue and yellow on the visible spectrum. It is evoked by light which has a dominant wavelength of roughly 495–570 nm. In subtractive color systems, used in painting and color printing, it is created by a combination of yellow and blue, or yellow and cyan; in the RGB color model, used on television and computer screens, it is one of the additive primary colors, along with red and blue, which are mixed in different combinations to create all other colors. By far the largest contributor to green in nature is chlorophyll, the chemical by which plants photosynthesize and convert sunlight into chemical energy. Many creatures have adapted to their green environments by taking on a green hue themselves as camouflage. Several minerals have a green color, including the emerald, which is colored green by its chromium content.
During post-classical and early modern Europe, green was the color commonly associated with wealth, merchants, bankers and the gentry, while red was reserved for the nobility. For this reason, the costume of the Mona Lisa by Leonardo da Vinci and the benches in the British House of Commons are green while those in the House of Lords are red. It also has a long historical tradition as the color of Ireland and of Gaelic culture. It is the historic color of Islam, representing the lush vegetation of Paradise. It was the color of the banner of Muhammad, and is found in the flags of nearly all Islamic countries.
In surveys made in American, European, and Islamic countries, green is the color most commonly associated with nature, life, health, youth, spring, hope and envy. In the European Union and the United States, green is also sometimes associated with toxicity and poor health, but in China and most of Asia, its associations are very positive, as the symbol of fertility and happiness. Because of its association with nature, it is the color of the environmental movement. Political groups advocating environmental protection and social justice describe themselves as part of the Green movement, some naming themselves Green parties. This has led to similar campaigns in advertising, as companies have sold green, or environmentally friendly, products. Green is also the traditional color of safety and permission; a green light means go ahead, a green card permits permanent residence in the United States.
Poster
A poster is any piece of printed paper designed to be attached to a wall or vertical surface. Typically posters include both textual and graphic elements, although a poster may be either wholly graphical or wholly text. Posters are designed to be both eye-catching and informative. Posters may be used for many purposes. They are a frequent tool of advertisers (particularly of events, musicians, and films), propagandists, protestors, and other groups trying to communicate a message. Posters are also used for reproductions of artwork, particularly famous works, and are generally low-cost compared to the original artwork. The modern poster, as we know it, however, dates back to the 1840s and 1850s when the printing industry perfected colour lithography and made mass productionpossible.
Pink
Pink is a pale red color that is named after a flower of the same name. It was first used as a color name in the late 17th century. According to surveys in Europe and the United States, pink is the color most often associated with charm, politeness, sensitivity, tenderness, sweetness, childhood, femininity and the romantic. It is associated with chastity and innocence when combined with white, but associated with eroticism and seduction when combined with purple or black.
Text
In literary theory, a text is any object that can be "read", whether this object is a work of literature, a street sign, an arrangement of buildings on a city block, or styles of clothing. It is a coherent set of signs that transmits some kind of informative message. This set of symbols is considered in terms of the informative message's content, rather than in terms of its physical form or the medium in which it is represented.
Within the field of literary criticism, "text" also refers to the original information content of a particular piece of writing; that is, the "text" of a work is that primal symbolic arrangement of letters as originally composed, apart from later alterations, deterioration, commentary, translations, paratext, etc. Therefore, when literary criticism is concerned with the determination of a "text", it is concerned with the distinguishing of the original information content from whatever has been added to or subtracted from that content as it appears in a given textual document (that is, a physical representation of text).
Since the history of writing predates the concept of the "text", most texts were not written with this concept in mind. Most written works fall within a narrow range of the types described by text theory. The concept of "text" becomes relevant if and when a "coherent written message is completed and needs to be referred to independently of the circumstances in which it was created."
< BACK
|
NEXT >