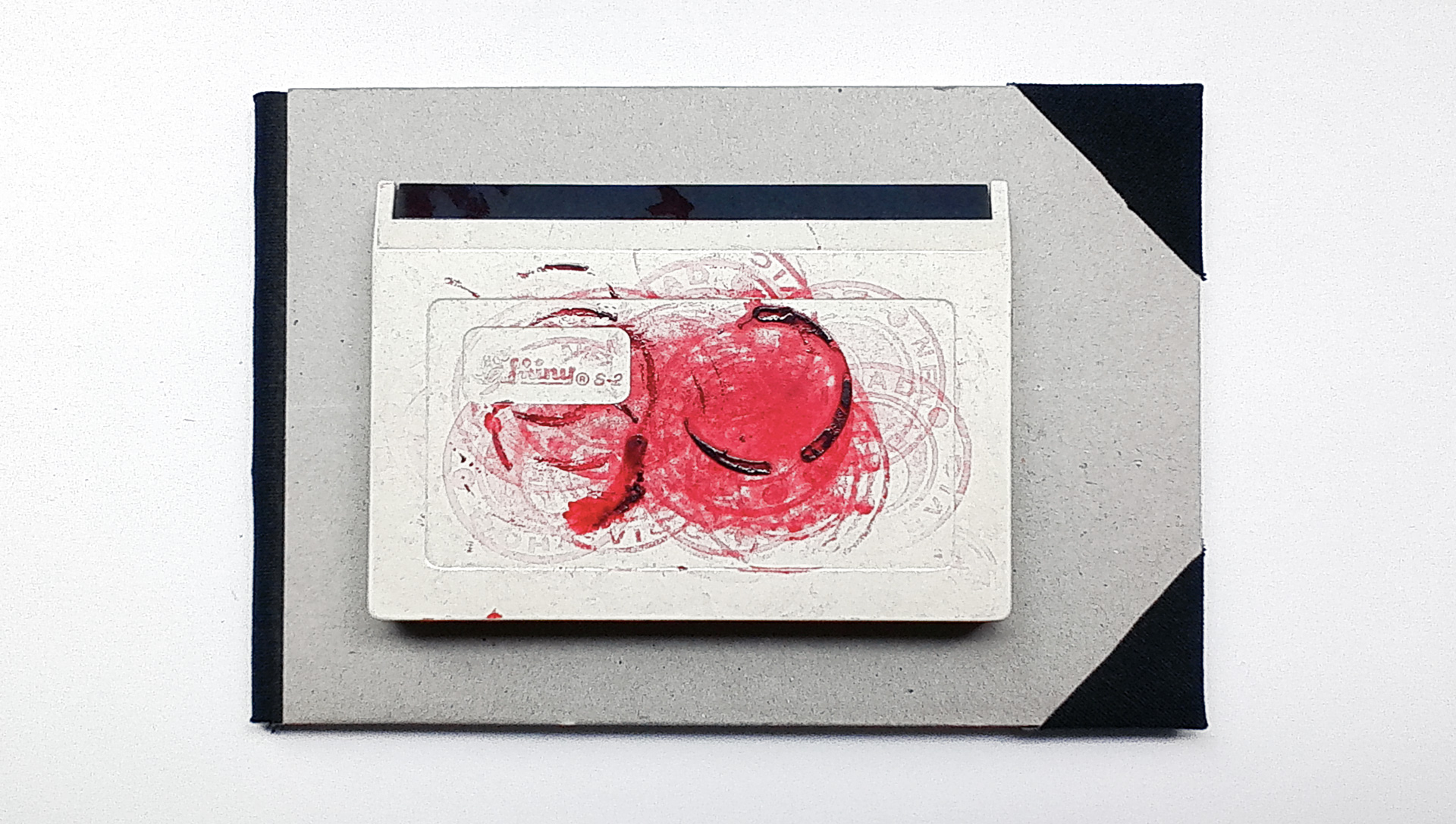 the red ink and the drawing pad (the surface)

Red 
Red is the color at the end of the visible spectrum of light, next to orange and opposite violet. It has a dominant wavelength of approximately 625–740 nanometres. It is a primary color in the RGB color model and the CMYK color model, and is the complementary color of cyan. Reds range from the brilliant yellow-tinged scarlet and vermillion to bluish-red crimson, and vary in shade from the pale red pink to the dark red burgundy. The red sky at sunset results from Rayleigh scattering, while the red color of the Grand Canyon and other geological features is caused by hematite or red ochre, both forms of iron oxide. Iron oxide also gives the red color to the planet Mars. The red colour of blood comes from protein hemoglobin, while ripe strawberries, red apples and reddish autumn leaves are colored by anthocyanins.
Red pigment made from ochre was one of the first colors used in prehistoric art. The Ancient Egytians and Mayans colored their faces red in ceremonies; Roman generals had their bodies colored red to celebrate victories. It was also an important color in China, where it was used to colour early pottery and later the gates and walls of palaces. In the Renaissance, the brilliant red costumes for the nobility and wealthy were dyed with kermes and cochineal. The 19th century brought the introduction of the first synthetic red dyes, which replaced the traditional dyes. Red also became the color of revolution; Soviet Russia adopted a red flag following the Bolshevik Revolution in 1917, later followed by China, Vietnam, and other communist countries.
Since red is the color of blood, it has historically been associated with sacrifice, danger and courage. Modern surveys in Europe and the United States show red is also the color most commonly associated with heat, activity, passion, sexuality, anger, love and joy. In China, India and many other Asian countries it is the color of symbolizing happiness and good fortune.
Ink 
Ink  is a liquid or paste that contains pigments or dyes and is used to color a surface to produce an image, text, or design. Ink is used for drawing or writing with a pen, brush, or quill. Thicker inks, in paste form, are used extensively in letterpress and lithographic printing.
Ink can be a complex medium, composed of solvents, pigments, dyes, resins, lubricants, solubilizers, surfactants, particulate matter, fluorescents, and other materials. The components of inks serve many purposes; the ink's carrier, colorants, and other additives affect the flow and thickness of the ink and its dry appearance.
Drawing 
Drawing is a form of visual art in which a person uses various drawing instruments to mark paper or another two-dimensional medium. Instruments include graphite pencils, pen and ink, various kinds of paints, inked brushes, wax colored pencils, crayons, charcoal, chalk, pastels, various kinds of erasers, markers, styluses, and various metals (such as silverpoint). "Digital drawing" is the act of using a computer to draw. Common methods of digital drawing include a stylus or finger on a touchscreen device, stylus-to-touchpad, finger-to-touchpad, or in some cases, a mouse. There are many digital art programs and devices.
A drawing instrument releases a small amount of material onto a surface, leaving a visible mark. The most common support for drawing is paper, although other materials, such as cardboard, plastic, leather, canvas, and board, may be used. Temporary drawings may be made on a blackboard or whiteboard or indeed almost anything. The medium has been a popular and fundamental means of public expression throughout human history. It is one of the simplest and most efficient means of communicating visual ideas. The wide availability of drawing instruments makes drawing one of the most common artistic activities.
In addition to its more artistic forms, drawing is frequently used in commercial illustration, animation, architecture, engineering and technical drawing. A quick, freehand drawing, usually not intended as a finished work, is sometimes called a sketch. An artist who practices or works in technical drawing may be called a drafter, draftsman or a draughtsman.
Pad
A surface, as the term is most generally used, is the outermost or uppermost layer of a physical object or space. It is the portion or region of the object that can first be perceived by an observer using the senses of sight and touch, and is the portion with which other materials first interact. The surface of an object is more than "a mere geometric solid", but is "filled with, spread over by, or suffused with perceivable qualities such as color and warmth".
The concept of surface has been abstracted and formalized in mathematics, specifically in geometry. Depending on the properties on which the emphasis is given, there are several non equivalent such formalizations, that are all called surface, sometimes with some qualifier, such as algebraic surface, smooth surface or fractal surface.
The concept of surface and its mathematical abstraction are both widely used in physics, engineering, computer graphics, and many other disciplines, primarily in representing the surfaces of physical objects. For example, in analyzing the aerodynamic properties of an airplane, the central consideration is the flow of air along its surface. The concept also raises certain philosophical questions—for example, how thick is the layer of atoms or molecules that can be considered part of the surface of an object (i.e., where does the "surface" end and the "interior" begin), and do objects really have a surface at all if, at the subatomic level, they never actually come in contact with other objects.
< BACK
|
NEXT >