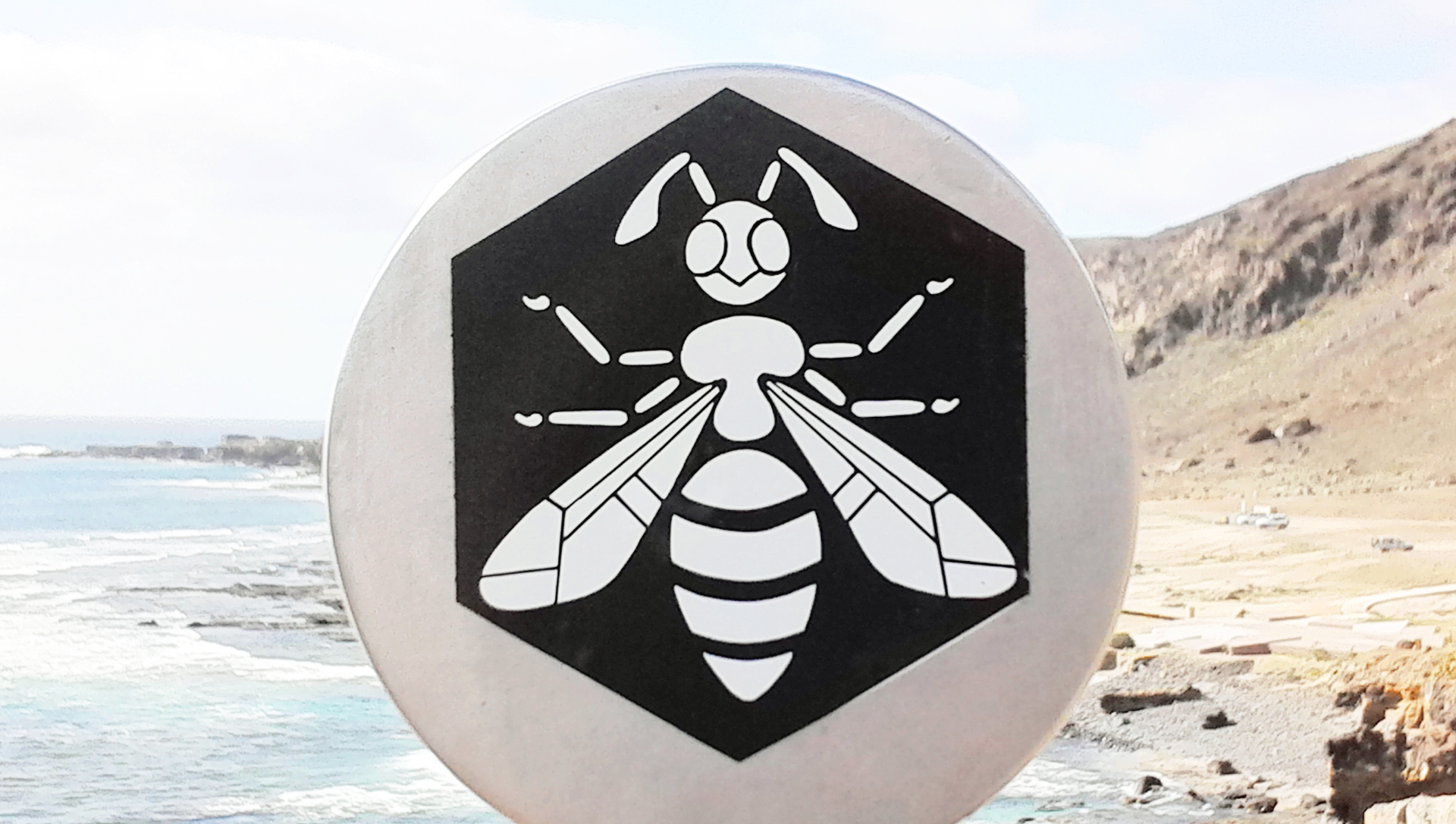 the Sticker with a bee on the Confital Beach

Sticker
A sticker is a type of label: a piece of printed paper, plastic, vinyl, or other material with pressure sensitive adhesive on one side. They can be used for decoration or for functional purposes, depending on the situation.
Stickers can come in many different shapes and sizes and also vary widely in colour and design. They are often adhered to items such as lunchboxes, paper, lockers, notebooks, walls, cars, windows, and so on. Temporary name tags for example are frequently stickers.
Stickers are very widely used when an object requires with a word or idea. Brand stickers may be attached to products to label these products as coming from a certain company. They may also be used to describe characteristics of the products that would not be obvious from simple examination. A label dispenser is often used as a convenient way to separate the sticky label from its liner or backing tape.
Stickers placed on automobile bumpers, called bumper stickers, are often used by individuals as a way of demonstrating support for political or ideological causes. Identification of vehicle registration and last service details are two examples of stickers on the inside of most car windscreens. The term "window sticker" is generally used for vinyl labels which are stuck to the inside of a vehicle's window, as opposed to water-resistant stickers that are stuck to the outside of a vehicle but can be affixed to anything.
Stickers are also used for embellishing scrapbooking pages. Kinds of stickers sold for this purpose include acrylic, 3D, cardstock, epoxy, fabric, flocked, sparkly, paper, puffy, and vellum. While in the earlier days of scrapbooking stickers were sold mostly on 2"x6" sheets, now 6"x12" and even 12"x12" size sheets are very common.
Stickers applied to guitars are called guitar decals. Post-it notes are removable stickers having glue on only part of the back, and are usually sold blank.
They are frequently distributed as part of promotional, and political campaigns; for example, in many voting districts in the U.S., stickers indicating an individual has voted are given to each voter as they leave the polling place, largely as a reminder to others to vote. Observers may clap hands, honk a horn or otherwise applaud a good sticker.
Some people collect and trade stickers with other collectors. These stickers use different form factors such as the popular vintage Puffy sticker types.
Some people put stickers (magnetic and permanent) on their cars to advertise their business, or to show support for sports teams or political views.
Stickers placed on tires, usually called tire lettering, can be temporary or permanent. These spell out names or have graphics on them, to enhance the look of the car.

Bee
Bees are flying insects closely related to wasps and ants, known for their role in pollination and, in the case of the best-known bee species, the European honey bee, for producing honey and beeswax. Bees are a monophyletic lineage within the superfamily Apoidea and are presently considered a clade, called Anthophila. There are nearly 20,000 known species of bees in seven recognized biological families. They are found on every continent except Antarctica, in every habitat on the planet that contains insect-pollinated flowering plants.
Some species including honey bees, bumblebees, and stingless bees live socially in colonies. Bees are adapted for feeding on nectar and pollen, the former primarily as an energy source and the latter primarily for protein and other nutrients. Most pollen is used as food for larvae. Bee pollination is important both ecologically and commercially; the decline in wild bees has increased the value of pollination by commercially managed hives of honey bees.
Bees range in size from tiny stingless bee species whose workers are less than 2 millimetres (0.08 in) long, to Megachile pluto, the largest species of leafcutter bee, whose females can attain a length of 39 millimetres (1.54 in). The most common bees in the Northern Hemisphere are the Halictidae, or sweat bees, but they are small and often mistaken for wasps or flies. Vertebrate predators of bees include birds such as bee-eaters; insect predators include beewolves and dragonflies.
Human beekeeping or apiculture has been practised for millennia, since at least the times of Ancient Egypt and Ancient Greece. Apart from honey and pollination, honey bees produce beeswax, royal jellyand propolis. Bees have appeared in mythology and folklore, through all phases of art and literature, from ancient times to the present day, though primarily focused in the Northern Hemisphere, where beekeeping is far more common.

Confital Beach
Playa del Confital (Confital Beach), southwest of the peninsula of La Isleta (Las Palmas de Gran Canaria), is a natural extension of Las Canteras Beach. The area normally suitable for swimming covers about two kilometers (1.2 miles), but the coastal strip is much greater. It consists of panels of rock with a layer of gravel at the end of them. Until some years ago, the beach was home to a small shanty town, which was eradicated; the land of the Confital went back to being public.[citation needed] Ensuing works proved controversial, as some environmental organizations and the residents of the city questioned the legality of the proceedings. The waves arriving at the beach are highly thought of by amateur and professional surfers, some of whom consider the Confital as having one of the best right waves in Europe. Here, the ocean currents form a tube that is used by more experienced surfers for its speed and strong contrasts. Each year, qualifying events for the professional world surfing championship take place on this beach.

< BACK
|
NEXT >